The Smart Home of The Future, Today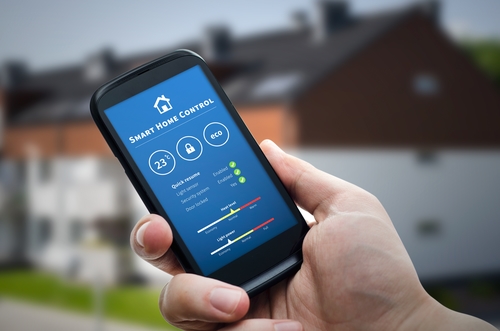 Robot vacuum cleaners, automatic door locks and smart home consoles aren't some distant future technology, you can actually buy them today at a reasonable price. But you don't want some boxy robot scooting around your house or an eyesore of a block on the deadbolt of your door. So what are the best and most fashionable smart home products? Here's a look at some of the most innovative and stylish smart home gadgets on the market.
Control Center
Before you go out and grab the latest and greatest smart home products, you need a way to monetize control of all of them. While Samsung's Smartthings is discreet and user friendly, and the IRIS by Lowe's is focused on customization, the Amazon Echo has taken the lion's share of the smart home control center market. The Amazon Echo connects all your smart home products in one place and, unlike other smart home hubs, doesn't beg to be hidden behind a bookshelf or TV. The Amazon Echo's sleek, cylindrical design and user-friendly voice command encourages you to keep this product in a central place where you can easily speak with it. Not only does the Amazon Echo act as a control center for other devices, it can also be used to search for information. Whether you need a recipe for dinner or your son or daughter needs help with their homework, the Amazon Echo is a stylish, state of the art smart home hub that's sure to come in handy.
Remote Control
At home, you control everything through Echo, but how do you control your smart home while away? Well, many smart home products sync with your smartphone so you have control from anywhere. Take Belkin outlets, for instance. Belkin outlets are a WiFi enabled outlet you can control with your smartphone. Schedule times for lights, TVs or anything else you plug in. Another example is Nest, a smart thermostat that links with your central heat system. Nest learns your habits and schedules the rise and fall of temperature in your home to coincide with your schedule. If you think you'll arrive home early, just boost the heat on your smartphone so that the house is toasty warm by the time you get there. Nest is a non-obtrusive dial device that goes in the same place of your old thermostat. Lastly, Withings Aura Smart Sleep System is a cutting edge, smart wellness system that uses light, sounds and sensors to track your sleep cycle. This smart sleep technology pairs best with top of the line smartphones like the iPhone 6s Plus due to its larger screen size, which creates a more user-friendly experience.
Home Security
Smart home products don't only help you keep your home comfortable, they also help you keep it safe. The August smart lock is a simple and sleek device you place on the deadbolt of your door. Don't worry, it isn't an eyesore. It resembles a smaller, rounder Amazon Echo, and with the touch of a button on your smartphone, you can lock and unlock your door. You can also grant access to neighbors if you go out of town. If you have a dog walker, just enable them access on the August app and they can take your pooch out for a walk without a physical key that could be lost or stolen.