Trend Alert: Grey Cabinets in the Kitchen
Grey is the new white! Sleek white cabinets have been a huge trend for the last few years, likely because painting old wooden cabinets white has such a dramatic effect on the overall look of a kitchen. But it's time for something new, something more stylish that's a great balance between masculine and feminine. Although you may think this is a relatively drab color for a vibrant cooking space, grey actually has dozens of different variations ready to perk that kitchen up in a jiffy. Take a look at these trendy cabinet selections to decide on your next update.
Incorporating Glass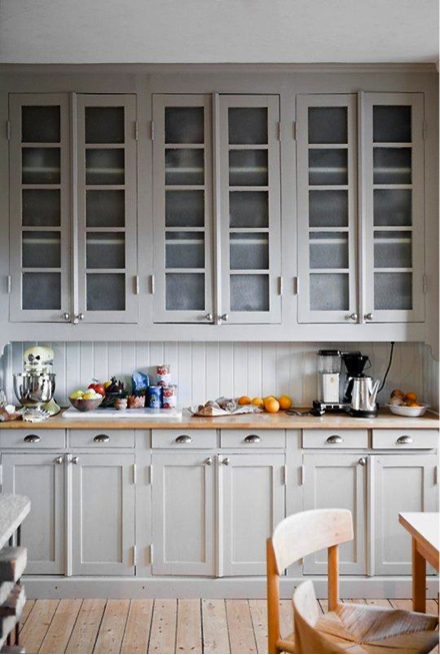 via The Kitchn
This designer decided to go with opaque glass on their grey cabinet doors, but you can also refresh this idea with clear or etched glass. Really, wouldn't it be convenient to see all your dishes through the glass instead of searching behind each solid door? This grey cabinet trend also encourages you to keep the cabinets tidy. Seeing an unsteady pile of bowls about to tip over isn't the best look through the glass.
Blends Well with Stainless Steel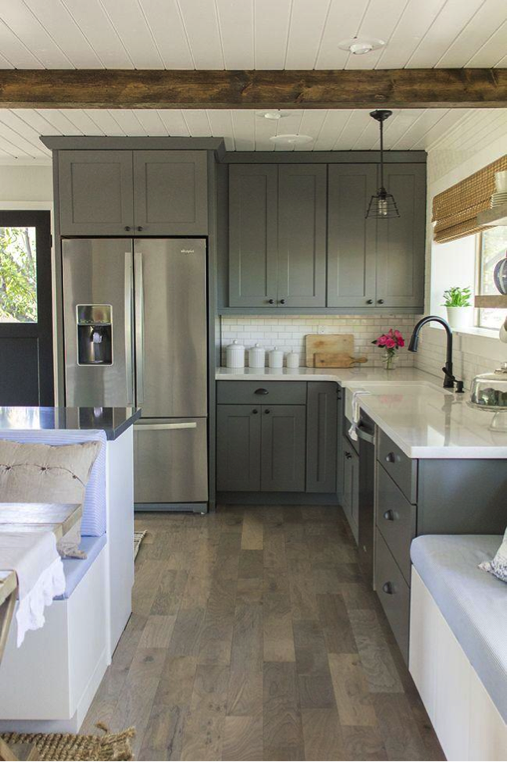 via Jennasue
The stainless steel craze in appliances doesn't seem to ever let up. When you have made this commitment to the material, you want the cabinets to match well too. Luckily, stainless steel in either a glossy or matte finish matches perfectly with grey. However, try to bring color samples home before painting the cabinets. Some grey hues look better than others with the steel look. This decorator definitely found the right grey tone for their stainless steel refrigerator.
Use Grey Shades for Depth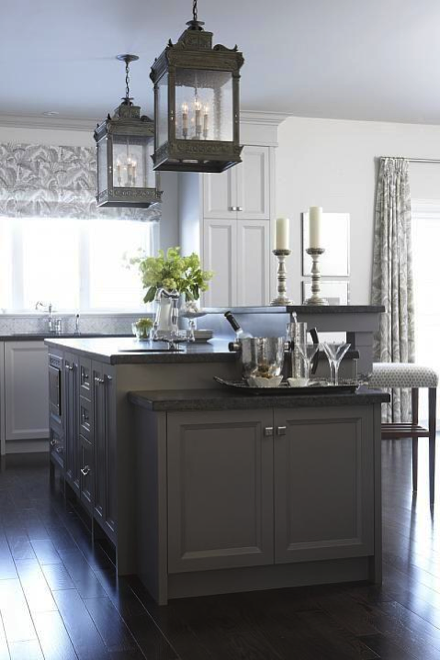 via Sarah Richardson Design
Don't reserve the grey cabinets for just the walls. Take a look at this grey cabinet island. It has a dark hue to accent it against the lighter walls. But the decorator doesn't stop there. Complement grey cabinets with matching fixtures and intricate window treatments. Using different grey shades only makes the space appear larger with visual delights around each countertop. Those pictured candlesticks and stool just add to the grey beauty started with the cabinet island.
Contrasts Beautifully with White Countertops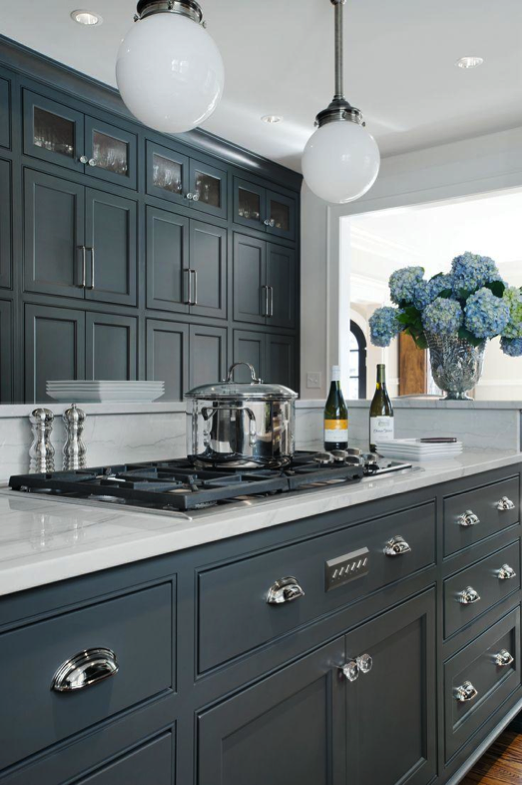 via DomaineHome
Picture a grey, overcast day in your mind. The color seems to go on forever with no breaks in the sky. The same concept can be applied to grey cabinets from ceiling to floor. Instead of making the entire wall a testament to grey, break up the color with a bright white countertop. Granite and marble are perfect additions to any kitchen, allowing you to accent the cabinets further with some grey detailing within the stone counters themselves.
Don't worry if your current kitchen isn't outfitted with all stainless steel appliances. You can still try out the grey cabinet craze with white or black appliances. Grey is one of those colors that complements and contrasts neatly with its neighboring colors. Take a trip to the grey side and discover a new kitchen look.
By Jane Blanchard at Modernize.com. For more kitchen ideas and inspiration visit Modernize. Modernize provides knowledge and the inspiration to create your dream home.