Tricks for a Stylish & Successful Airbnb Listing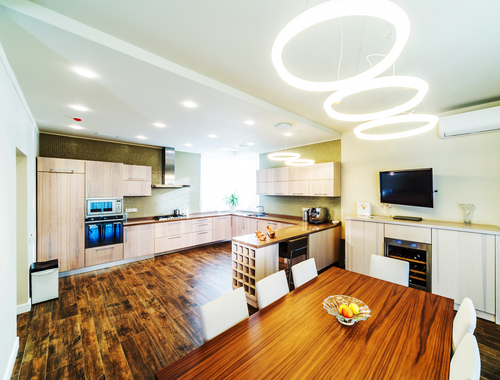 According to Airbnb, 91 percent of travelers who use the home-sharing site to find vacation housing want to "live like a local," and 53 percent of hosts say the financial contribution helped them pay bills to stay in their home. Whatever your reason for joining the Airbnb revolution, you'll need a fantastic listing to secure bookings and earn rave reviews to stay in the game. Fortunately the weird, wonderful, opulent and totally rustic are winners on Airbnb. Here's how to get started with your listing.
Use descriptive details
Descriptive, fun and powerful headlines and details are one of the No. 1 ways renters get more bookings. Use language that paints a picture. Add some of the details about your listing in the headline itself like the number of bedrooms, city your rental is near and any special features. Keep your listing brief but fun and informative with one or two sentence paragraphs that captures the spirit of your home. For example, instead of writing, "One bedroom apartment in the city center," try something like "Stunning one bedroom pre-war apartment with vaulted ceilings and view of city center."
Revamp your profile
Your Airbnb description isn't the only thing that needs some fabulous copy. Update your profile to reflect what an amazing host you are and a little personal information about yourself. Showing off your personality can help drive up your bookings, so don't be shy about discussing your design hobby or how you collect porcelain unicorns. You never know who may be interested.
Book a free photographer
There's no excuse not to have attractive, professional-looking photos on your Airbnb listing. If you have a great eye and flair for photography, set up a photo session and hire a Photoshop expert to make them pop. But even if you typically take blurry photos full of your thumbs in the corner, there is still a way to get quality photos for your listing. Take advantage of Airbnb's free photographer and book an appointment. A friendly photographer comes to your home and gets to work so your listing reflects the unique charm of your home.
Embrace the quirks
Have a tiny space or completely bizarre home? It's not a problem on Airbnb and may actually skyrocket your bookings from guests looking for a unique experience. One of Airbnb's most popular listings is a one square-meter house in Germany. Dubbed "the smallest house in the world," guests turn the house on its side to go to sleep. Prices average a scant 1 euro a night.
Ever wonder what the No. 1 listing is on Airbnb? Currently it's the Mushroom Dome Cabin in California, which features a geodesic dome loft with a deck situated in the trees.
Think like a guest
Put yourself in your guest's shoes to figure out what they want in an Airbnb experience. Why did they (and so many others) choose Airbnb instead of a hotel? Guests love access to a full kitchen stocked with pots, pans and common ingredients to do their own cooking. For ultra convenience, set up a do-it-yourself breakfast bar with granola, yogurt, coffee and juice and snacks to go. Boring hotel soap is out. Fresh smelling bath gel, salts and scrubs make guests feel welcomed. Place some travel souvenirs and photos around your home for a conversation starter, and put together a book of area attractions and helpful tips, including off the beaten path places to stop. Some hosts even offer to pick up guests from the airport and train station to make their guests' experience seamless.