How to Seamlessly Blend Tech and Style in Your Home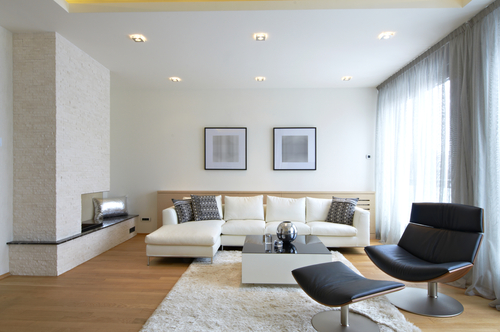 A contemporary living room with all the latest tech can either be a media dynasty or a muddled disaster. With all the bulky equipment, awkwardly angled accessories and cords and wires running everywhere, maintaining any element of style seems futile.
But there's hope. Your living room can have superior interior design and still be an entertainment hub for your home. Many televisions, speaker systems and entertainment centers can be naturally integrated into your stylish setup without upsetting the balance of comfort and media technology. By choosing your entertainment gear carefully, you can design a chic living room without sacrificing the elements of entertainment.
Televisions
Flat-screen TVs are a home designers dream come true. No longer do you have to sacrifice the precious space in your living or family room to have a big screen for viewing. Instead of a clunky entertainment system, now you can just mount it to the wall.
The problem with flat-screens, though, is how obvious they are. Many homeowners struggle with decorating around their mounted TVs and end up with lots of empty wall space surrounding the screen. However, there are a few tricks to avoid the look of stark, unused space. For example, hanging the television to the right or left of the center line will give you more space to work with. Find wall art that roughly matches the size of the screen, and hang it in the margin. Or, you can stagger two accent pieces, about a quarter size of the TV, on the opposite side in order to fill the wall space and add a flare of fashion.
Video Game Consoles
You want all of the modern consoles in your entertainment system without it looking like a big brick is just sitting in your living room. Luckily, there is no shortage of choices. One option to consider is a PS4 because of its sleek design, which suits a variety of styles. Plus, the PlayStation 4 has many other functions so you can eliminate some other bricks and a whole mess of cords. For example, it can play Blu-ray movies and stream TV shows, movies and music, which can help you get rid of some bulky gadgets and a few remotes. And, if you like to take your gaming with you, the PS4 now can link specifically to your Sony Xperia smartphone through the Remote Play app.
Speakers
Polish designer Witek Stefaniak created the Soundshelf as a dual-purpose system. It is a full-sized speaker that has shelving in the interior. If this does not fit your style, there also are smaller, affordable speakers available in different shapes and themes, which can add some distinction to your media style palette. These types of speakers can be used as accent pieces as well as sound machines.
Remember, your living room is more than a dumping ground for your tech and media components. It's a space you've designated for friends and family to gather and spend time together. You should be able to kick back without bumping into a speaker or tripping over a mess of cords. Rather, it's a haven where you can scroll through your favorite TV shows, play games and watch movies all by using one remote. Pay homage to the gods of technology, media and style by bringing them all together in seamless harmony in your very own living room.