Discover the Psychology of Color in Home Design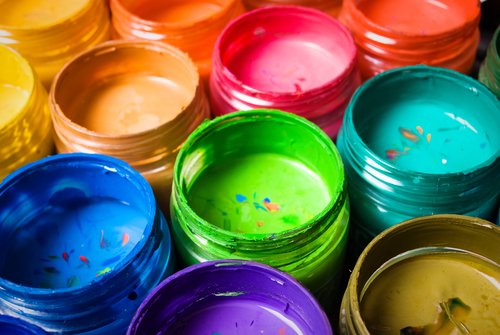 The study of color, known as chromatics has gained some notoriety in several aspects of popular culture, particularly in art and interior design, as different colors and shades have varying effects on individuals and emotions. Examining the psychology behind how color affects emotion can reveal which colors are best to integrate into your home, how much color to use, and where color is most effective.
Red
The color red can stimulate adrenaline, causing an increased rate of respiration, quickened heart beat, and heightened blood pressure. Since red elicits such a tremendous response from people, it is a color to use sparingly, saving its impact for the most appropriate rooms. Since red has also been noted to stimulate appetite, red can work well in a dining room. A red room can be overwhelming, so carefully choose your shade, especially when accompanied by by grounded colors and less severe colors, like brown. Brown, the color of stability and pragmatism can be expressed through a rich, burgundy wood dining table and chairs, or with smaller accents, like classic cappuccino-colored bar stools, plant stands or picture frames. The balance of red's passionate intensity and brown's quiet reliability makes for a dynamic and comfortable eating area. To ensure that you properly intertwine the two colors together in your dining room, consider hiring a local home decorator to sort out all of the details for you.
Blue
The calming and serene shade of blue, frequently associated with the tranquil sea, is also said to increase productivity. Because if this, blue is an ideal color for the walls of a home office. The subtly of blue combined with accents of green, the color of growth, harmony, and health, can constitute a positive and productive environment. Accent the room with lush plants if possible, as well as curtains, pillows or throw blankets of variant textures.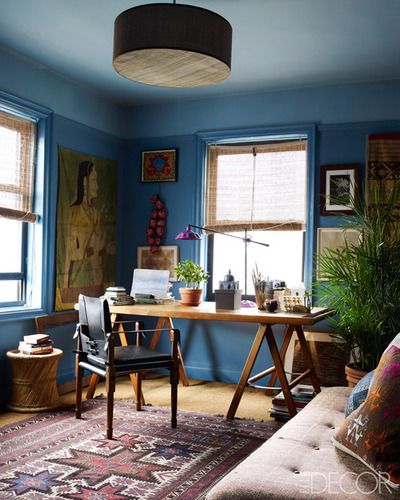 via vintageluxe
Purple
There are many shades on the purple spectrum, from lavender to royal, making purple an excellent choice as either a wall or accent color. A color symbolizing sophistication and prosperity, purple also calms the nerves and relieves tension, making it a sublime shade for the living room. When coordinated with a color like white, which represents purity and creativity, or silver, suggesting strength of character, you can create an elegant and welcoming space. Accent your living space with sleek and unique white or silver furniture paired against lavender walls.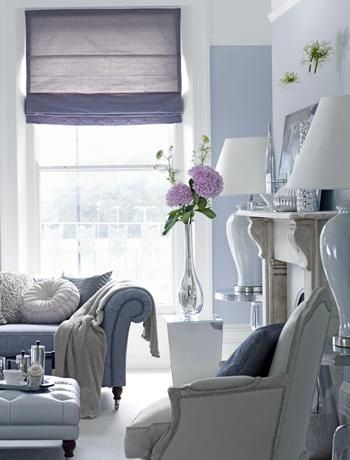 Yellow
Yellow, a color of energy, can not only brighten a room, but also encourage metabolism. Though these traits make yellow an appropriate choice for your kitchen walls, too much yellow can cause negative responses, as yellow is the most difficult color for the human eye to take in. If you would like to bring the cheeriness of yellow to your walls, choose a soft shade, and accent with a firmer, more grounded color for balance. Shelving and colored in a shade of stable brown, or a backsplash featuring calming blue would help to minimize the strain the potential strain and maximize yellow's cheer and warmth.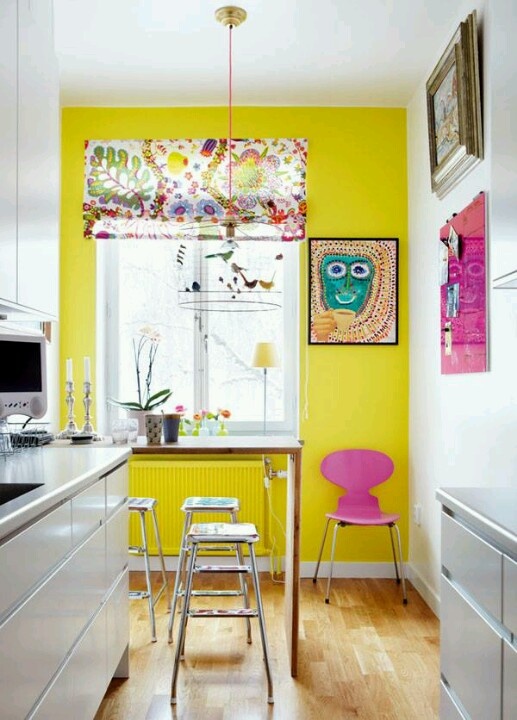 With some understanding of chromatics, and the psychological implications of the use of colors in your house, get the most out of the shading options in your living space, and turn it into a spectrum of color and beauty.