7 Ways to Outfit Your Home with the Latest Tech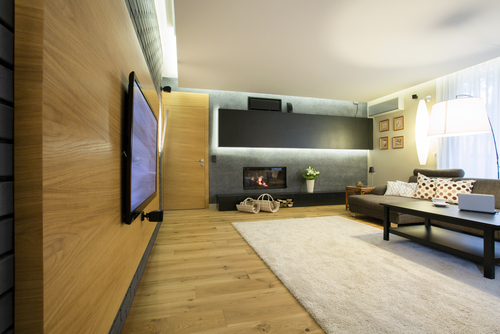 For many folks, tech is a way of life. So integrating technology into their homes is a no-brainer. In today's tech-forward world, there are plenty of ways to outfit your home with the latest and greatest technology.
Here's a roundup of some of the most popular home tech trends you can integrate into your living space to keep it cutting edge.
Light it up
According DIYNetwork.com, LED lighting is a cost-effective way to add a sustainable living element to your home. LED — or light emitting diode lighting — offers an extended lifespan and is free of mercury. You can use this energy-efficient lighting option anywhere, from lamps to fixtures to cabinets. Plus, the bulbs don't get hot to the touch like traditional light bulbs.
Hideaway TV
With flat screen televisions all but a staple in homes today, many folks don't want their TV to be the focal point of a room. Now, you can enjoy your TV when you want…and hide it when you don't. HGTV.com highlights a pop-up ceiling that stores your television when it's not in use, as well as a closet that holds the equipment that comes with it.
For an even more "now you see it, now you don't" option, Curbed.com suggests foregoing bulky cabinets for hiding your TV when not in use and opt for a transparent screen from the likes of Panasonic and Samsung that can disappear right before your eyes.
Home theater
Take recreation to the next level with a room designed just for entertainment. With the latest audio and video technology, along with a projector, a dedicated media room is a fantastic place for families to gather and to entertain friends. Black-out curtains and a bar area complete the room.
If you're looking to outfit your audio system on a budget, cnet.com shares surround sound speaker packages that will give your home theater a step up at a reasonable price.
Integration
Today, families are looking for convenience wherever they can get it. And with home integration all the rage, they can access anything from lighting to heating and cooling to security systems right from the touchscreen of a Galaxy S6 Edge. No more driving back home to ensure you've turned off the lights or locked the door. Using your smartphone, you can easily integrate your home systems for access anywhere, any time.
Automated cleaning
Loathe the thought of cleaning house? Well, now you don't have to — you can automate your cleaning with the click of a button. Cleaning robots offer laser technology that senses the dirt and swiftly removes it for an experience right out of the Jetsons.
Sleep soundly
Technology is making way for the best sleep of your life. With automated mattresses designed for your unique needs, circadian lighting and innovative alarm clocks designed to make for un-jarring wake-ups, you can enjoy restful, deep sleep with the help of technology.
Shut the front door
Think your front door can't be tech-forward? Think again. Cepro.com suggests your home's front door can become a beacon of technology with features such as intercoms, smart doorbells, security cameras and even facial recognition technology. How's that for a warm welcome?
Whatever tech you enjoy most, there is more than likely a way to make your home coincide with your preferences. Welcome to the future…it's right at your doorstep.